Euchre is a trick-taking card game for four people, quite popular in the USA and the Commonwealth. Its origin can be traced back to 18th century Europe, where several games with similar rules were being played.
It is a fast and dynamic team game with simple rules, which makes Euchre the perfect social card game to be played among friends and family.
It is played by two teams, consisting of two players each, using 24 cards from a standard French deck (from 9s to As). The point of the game is to make more hands than the opponents` team and be the first to reach 10 points. You can read the full rules here.
Now you can enjoy the thrill of playing your favorite card game from anywhere, with VIP Euchre. Register for free and join the biggest community of Euchre players online, where you can master the game and find other players 24/7.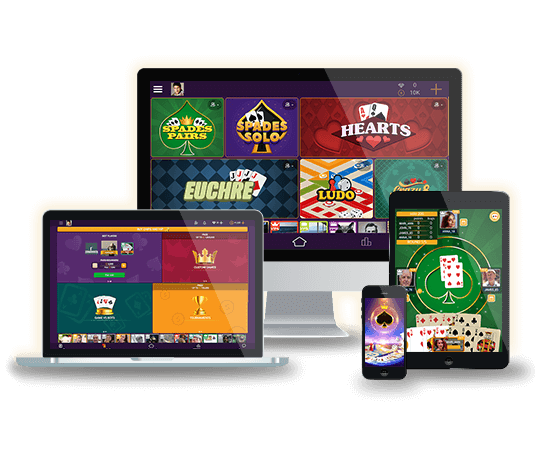 Free
Euchre
VIP Euchre is a free to play online card game, both as an internet website and a mobile app. Regardless of the device, all players share a common platform where they can match against each other, communicate, and find new euchre partners.
By registering and playing at VIP Euchre you get more than a card game, you register for an experience. Here are some of the benefits of our online card platform:
Real Players
With over 10,000 players daily you will always have opponents to play with.
Clean Design
Easy to navigate lobby that lets you pick quickly between different games and modes.
Daily Bonuses
Never stay without ingame coins with our increasing daily bonuses and mini games.
Weekly Leaderboards
Play, win, and lead the charts. Put your name among the best at Euchre.
Cross-platform Game
Play VIP Euchre on your PC, laptop, Android or iOS mobile with the same account.
Euchre Online Tournaments
Join the weekly promo tournaments to win great prices or play at the sit-and-go tables until only one team is left standing.
Social Interactions
Use the global chat to discuss game styles or just chat between players. Add new friends, explore their galleries, and communicate over personal messages.
Free Euchre Training
Learn the game rules and practice against the computer in our free training room.
Frequently Asked Questions
How to register?
There are four ways you can register and play at VIP Euchre:
Facebook registration: The fastest and safest way to register at the platform is to use your Facebook account. Your avatar and username will automatically be set at your VIP Euchre account (you can change them afterward). Your account will have access to every functionality our platform can offer and you can easily invite your Facebook friends over to play with you.


No additional information from your Facebook account would be used or saved in any way or form.

Google registration: Login with your Google account. Simple as that. You will be assigned an account name according to your name which you can freely change afterward.
Twitter registration: Login with your Twitter account. It will ask for your account confirmation the first time and after that, you will be able to enter the platform with one click from any of your twitter-connected devices.
E-Mail registration: If you don't want to use a 3rd party account as a login method, you can register your VIP Euchre account using email registration. Choose 'E-mail' from the login screen and click the 'Registration' button at the bottom of the menu.
Login as Guest: If you want to try the game before making an account you can enter the platform as a guest. You won't be able to play in the matchmaking rooms or communicate with other players in any way, but you can test the game versus the computer. You can always register afterward.
How do I play?
Enter the platform, pick the game you want to play and chose the difficulty of the room you want to play in. You will be automatically added to the waiting list and when the platform matches you with players similar to your skill the game will begin.
What is the purpose of the chips?
The chips are one of VIP Euchre's virtual currencies. They are used to pay your pregame bid, to buy and send game gifts to other players and also to buy some specific account items. You gain chips by winning games and collecting bonuses. Alternatively, you can purchase chips from our store.
How do I get free chips?
There are several ways you can receive free chips every day:
Registration Bonus: It is a one time bonus of 20,000 chips when you register your account in our platform
Daily Bonus: Every 24 hours you get 5,000 chips in the form of a daily bonus. There is a progression of the Daily Bonus if you collect it each day. Note that the progression will reset and you will be back to the 5,000 chips if you fail to collect the bonus for a whole day.
Mini Games: By playing our promo games – Scratch Card and The Wheel of Fortune you can win additional chips. The Scratch Card is available every 4 hours and the Wheel of Fortune every 12 hours.
Invite a Friend: If you connect your VIP Euchre account to your Facebook account you will be able to invite your Facebook friends to our game. You receive 10,000 chips for every registered friend you invite.
New Level Bonus: With each level up on your account you will receive a level bonus. Experience points for a level up are won by playing games with chips.
Enjoy all our
online games

for free

Try other card and board games. You can play on multiple devices.